Fried Foods and Rattlesnake Sausage
by Demo Directory on 07/01/2011 - 07:13 am
Category: Unique Foods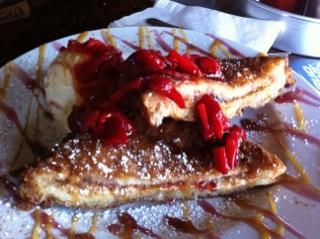 Hidden amidst the flurry of downtown Fullerton hot spots and not spots is a small but amazing little restaurant/pub dishing out some unique and tasty casual fare. Unlike the status quo tavern menus of burgers and fries (they do have some pretty good sweet potato fries though), Joe's pushes the limits of culinary creativity by offering an amazing array of sausages, fried stuff, and sandwiches.
Fried appetizer offerings vary from Kermit's Legs to a large sampler platter of fried pickles, pepperoni chips, and cheese aptly and fondly referred to as "fried junk".
Entrees range from a gigantic turkey leg rivaling any county fair food, some healthier shrimp kebobs, and then to some of the most amazing sausages you could possibly imagine- or not imagine. The rattlesnake and rabbit sausage is one of the most popular items for the gastronomical adventurer with a wonderfully unique taste surprisingly unlike chicken. For a taste of something different, Joe's offers a selection of sausages like duck and bacon sausage, wild boar Andouille, southwest buffalo, smoked alligator and a goat cheese stuffed Italian sausage. Both the wild boar Andouille and the goat cheese stuffed Italian were extremely juicy and flavorful without being greasy. You can order "Joe's Picks" for an opportunity to sample three different sausages along with paired condiments. The combo might be a good idea for first timers to experience the different flavors.
Innovation is consistent in the dessert selection as a tempting array of deep fried offerings from Ho-Hos and Cupcakes to a wonderfully decadent deep fried PB & J (those in the know may ask to have the bread replaced with waffles).
So Joe's literally isn't a place a place for the weak of heart, especially if cholesterol is an issue. The food is creative and delicious, and they have a full bar with a great selection beers on tap. This is a definite "must try" and once you do, you may end up being a regular.
Joe's is located at 124 W Commonwealth in Fullerton
Leave your comment