"Beast" of BBQ in Anaheim
by Demo Directory on 07/06/2011 - 12:15 am
Category: BBQ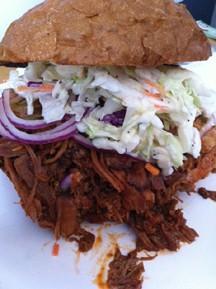 There are plenty of restaurants serving up barbecue in Orange County, but only one place is dishing out a BBQ sandwich so big it's aptly named "The Beast." Anaheim's own Blake's Place has created a gastronomic monster of a sandwich weighing in at over two and a half pounds. The ginormous, toasted homemade bun is piled high with smoked pulled pork, pulled BBQ chicken, chopped beef brisket, cole slaw, pickles, sliced red onion and Blake's very own BBQ sauce.
It's a massive but delicious compilation of BBQ goodness, but if you want good BBQ and your appetite hasn't quite hit the level of conquering "The Beast", the menu offers plenty of other sandwiches, and slow cooked BBQ staples including ribs, chicken, and a large selection of smoked meats. For variety, Blake's menu is rounded out by a nice assortment of fresh salads, burgers, and burritos so there's sure to be something for everyone.
Besides being a top BBQ spot, Blake's is also known for their take out and catering services for private parties, groups, and fundraising. Blake's Place is tucked away in an industrial complex at 2905 E Miraloma, # 3 or you can give them a call at 1-866-5-BLAKES.
Leave your comment