Sage Restaurant- Original Grilled Peach Cobbler
Overview
Published: 08/30/2011
by Sage Restaurant
Photos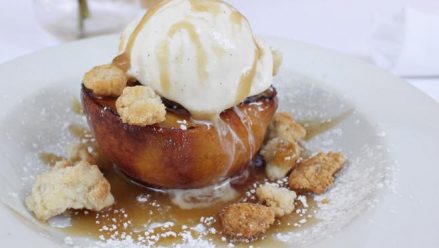 This Recipe comes from
http://www.sagerestaurant.com ; Printed with Permission
Recipe Serves 4
2 Whole Peaches, Halved & Pitted
2 Oz. Honey (or ¼ Cup)
1 Vanilla Bean
1 Tsp Cinnamon
Marinate peaches in honey mixture for 1 hour. Grill. Reserve marinade.
Cobbler Topping
1 ¾ Cup Flour 1 tsp Salt
1 Tbsp Sugar 1 Tbsp Baking Powder
6 Tbsp Cold Butter ¾ Cup Cream
Combine dry ingredients. Cut in butter. Add cream mix until just comes together. Chill for 1 hour. Roll out dough to ½" thick and bake at 350º for 20-25 minutes. After baked, let cool and crumble with hands.
Vanilla Crème Fraiche
1 Cup Crème Fraiche ¼ Cup Honey
1 ea Vanilla Bean 1 Tsp Vanilla Extract
1 Tbsp Lemon Zest
Combine all ingredients. Bring marinade to a boil, reduce to a simmer and reduce by half.
Placing
Place grilled peach half on plate with some of the reduced marinade. Then sprinkle some of the crumbled cobbler topping and finish with the crème fraiche.
For More Recipes and information on Sage Restaurant, visit www.sagerestaurant.com