Nutburger and Greek Burger Added to Pee Wee's Growing Regional Menu
Overview
Published: 09/13/2011
Photos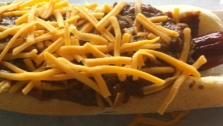 Pee Wee's Famous Hot Dogs and Hamburgers has now come up with two new gastronomical creations to tempt the taste buds of those visiting their Huntington Beach location. Hungry customers can now select the Nutburger and the Greek Burger from Pee Wee's vast and growing menu of tantalizing choices.

The Pee Wee's Nutburger may well become the deli version of the popular "crunch roll" with a unique nutty crunchy deliciousness that needs to be tried to be described . The Greek Burger is topped with Feta cheese, whole sliced pepperoncinis, red onions, balsamic vinegar and lettuce for a pure Mediterranean delight (ask for Kalamata olives and go extreme Greek).
If you're not familiar with Pee Wee's, besides offering one of the best chili dogs in Orange County, they offer a creative range of regional twists to the typical dogs and burgers. When it comes to links, the Hawaiian Dog is our favorite (served on sweet Hawaiian bread with mango relish) as well as the Veggie dog. As a regional burger twist, try the Vietnamese Banh Mi Burger bursting with flavors of cilantro, jalapenos, and marinated radish salad.

The restaurant is located at 5942 E. Edinger Avenue in Huntington Beach. This is at the corner of Edinger and Springdale in the Marina Village complex across from Marina High School.